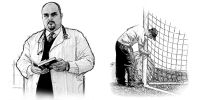 As we fast approach the end of season 5 at PPM Soccer, it's time to start thinking about preparing for the off-season, and the end of season sponsorship offers.
Specifically, one key factor your team will need are two good quality managers, specifically trained in marketing.
From the guide: 2. Marketing – this attribute indicates the ability to negotiate better contracts with general and media sponsors.
Depending on your managing style you will already have managers, so the question is how good are they, and how big an impact will they have on your potential offers?
My suggestion is to train or buy off the market 2 managers specifically trained in marketing (attribute 2). There are always plenty of managers on the market, but the prices tend to increase the closer to the end of the season we get, so i recommend you start looking now.
What are your thoughts on this strategy? Do you do something different? Leave your thoughts below.