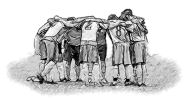 Would you believe we're almost at the end of the first Powerplay Manager Soccer season? It seems like only last week the PPM team launched the soccer game.
I was thinking about how the game has progressed over the course of the season, and have been very impressed at the level of quality put into the game. I got to thinking, how has the game developed from a user point of view? How are the players looking?
So here are a few player, team and league stats from season 1 of the PPM Soccer game:
Player with the highest average quality:
Miloslav Amrich from the team "Chelsea 58" in the Slovakia V.61 League
Player with the Best Overall Rating:
Filip Chropovsky with an incredible 306 OR from the team "MFK Kosice" in the Slovakie IV.16 League
Best single league attendance:
11,800 on 24 August, 2010 when home team "Real 2010 Madrid "jalu"" hosted the "Capitals Marl" In Germany II.2 League
Most goals in a league match:
13 on 1 July, 2010 when home team "Dinamo Smiltene" defeated "sportacentrs.com" in Latvia IV.43 League
Highest Overall Team Rating (OTR) average:
Slovakia I.1 with a whopping average 102.03 OTR per team!
League with the most goals:
Latvia II.1 with 805 goals.
Team with the best Overall Team Rating:
Holland Pioneers with 143.81 OTR in the Netherlands I.1 League
Most Points in a League:
Trueblue United with 87 points in Other World I.1 League (this is my team)
With just a handful of games remaining in the first season, we're down to the pointy end of the game. Some teams have their respective leagues wrapped up with the #1 spot, other leagues are still battling it out each day. Good luck to everybody out there with their teams. If you ever want to play a friendly, don't hesitate to drop me a challenge. Just search for Trueblue United, or use the link just above.