As promised in my recent article, I wanted to talk about the attribute ratios for players in the Powerplay Manager soccer game.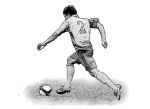 As with hockey, there is a lot of personal preferences when it comes to using ratios for your training. What we do know is that for different positions there are 3 types of secondary attributes; Major, Medium and Small. This is a good starting point when selecting what types of ratios to go with.
As there is no clearly defined "right" way to do this, I want to make it very clear that anything I write here is purely my opinion and is NOT to be taken as correct, right, perfect or anything like that. I expect you to make up your own minds as to what is right or wrong, and if you want, share with me in the comments down below.
There are 3 main ratios I have heard being tossed around during conversations. I wanted to briefly touch on these to give you an idea of what can be used.
4 – 3 – 2 – 1
This is a generic ratio similar to the 4-3-2 used in PPM hockey. It assumes that the Major influence ratio is 75% of your primary, the Medium influence 50% and the Small influence 25%. Pretty straight forward and easy(ish) to keep track of.
4 – 3 – 2.5 – 2
A variation of the above and assumes that the Medium and Small influence ratios are slightly more important than the generic 4-3-2-1 ratios.
3 – 2 – 1.5 – 1
This ratio balance is used by those who prefer the 4 attributes be closer together. It can produce consistent players, however will take much longer to build high star-rating players.
No matter what you personally choose to go with, know that the key to a good manager is the ability to bend with the game and learn on the fly. Don't be afraid to try new things and test new theories.