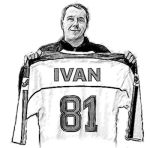 Regardless of what level of league you are involved in, all hockey managers face one challenge above any other; balancing winning now Vs building for the future. From NHL managers (the Maple Leafs are a great example of what not to do) to the KHL, to local hockey in your home town, the balancing act of now Vs future will most probably weigh in on almost every decision you make as a hockey manager. At PPM it's no different.
If you read the forums at PPM you will notice there are certain topics that appear to trend over and over again. "Why did i lose this game?", "Which facility should i upgrade?" and others asking questions or commenting on things like staff, scoreboards or stands. All of these things have one thing in common; they pretty much directly have an impact on how well your team plays and/or directly affect the financial outcome of the game for your team.
Which brings me to the question of today… which is better, focus on winning now or plan ahead and build for the future?
Focussing on winning now
When you make the choice to focus on winning immediately, the viable options you have with your finances drop drastically. Longer term upgrades become less important and you will find yoursel leaning towards upgrades or purchases that can immediately see results. Buying players and staff from the market or upgrading your coaching department are the big three options in this group. If you do have money saved up in PPM and want to boost your teams rating, then i believe the first stop should be the market place… but DO NOT BUY! No, instead all you want to do on the first visit is RESEARCH. See what's available and within your finances. From what I've seen, a 300+ OR player will start at around $12 Million dollars and go up from there. If your team has a low average OR, definitely look to upgrade with a high OR player as the impact can often be seen immediately! Buying Staff is the same principal… you want staff who will step in and make a difference immediately, so coaches, physios etc are all great options, and look for guys with really high OR. I personally like staff who specialize in a single attribute, and while these guys will often cost more, they are (in my opinion) much better for your teams growth. Lastly, if you do want to do upgrades but want the results sooner rather than later, look to the coaching department, so your daily rate of training is improved.
Building for the future
For those who already have strong teams, or those who would rather build their teams foundations for the future, then maybe ignore the market right now. Look to the longer term upgrades that will help your team. The Sports Academy tops this list, and don't be afraid to really drop a lot of cash into that if you have it. Scoreboards, Stands and Stand features like restaurants, stores and skyboxes are also great purchases for down the road. If you do want to go to the market, look for players with long-term advantages, such as VERY high qualities, 6/6 CL and great attribute balancing. You can get some great bargains for good prices if you shop around and are selective. If you're one of these buyers, remember that the guy you buy might not be ready to get in the lineup right away, so keep training in mind when you go shopping.
The Value… where is it?
In my opinion… always pay a visit to the marketplace, and if you have funds that are not being kept aside for other things, don't be afraid to drop a few of them on a player if one jumps out. I had a discussion recently about a player i purchased off the market for $15 Million. It took me 3 weeks to save up that money from my sponsor deals, so dropping that kind of amount on a single player is fairly serious for me. I did however knowing 3 things: 1) His OR was 45 more than my teams average, 2) His qualities were high enough for me to build him into a MUCH better player and 3) his attributes were perfect, and very high! While I may have spent $15 Million, the benefits to my team are worth much more than the cost of not spending that money.
Weigh up the cost of spending Vs the cost of what you would get in return
That's the real value. Research, Confidence and a little luck will make one helluva strong team!