PPM Soccer is now 2 seasons old, and what once was an infant with teething issues has started to grow into a well behaved, although sometimes frustrating, toddler.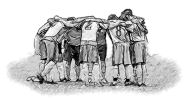 Now that 2 seasons have passed, we've been able to get a pretty good basis of data to see what works, what doesn't, and what needs to be avoided at all costs. More importantly however, it's given us time to build our facilities and start serious analysis of other teams; analysis that helps us get an even better understanding of what works.
But season 3 isn't all about analysis and crying toddlers. No. PPM is a game, so first and foremost, season 3 needs to be about having FUN. Unfortunately, i see too many people on the PPM forums who forget that this is a game and get a little too serious at times. Sure, losing sucks, but keep in mind that when you win, someone else has to lose. That's part of the game. Bad losses happen, even in real life.
There has been a nice addition for Pro users this coming season by way of the Automatic Training system. This is a ratio based system that will automatically train your players to any ratio that you choose, training the attributes that are furtherest away from where they should be. This is a new feature, so i encourage all pro users to TEST is thoroughly before using it on your whole team. Not all managers will like it, but from what I can see, it's pretty good. I created a video on youtube (also on this site) which introduces it.
Trueblue United Football Club Update
T.U.F.C. had a tough challenge in season 2. After winning the Oceania I.1 league in season 1, they had to defend that title last season, and did fairly well for most of the season. With just a few weeks left in the season they were in the top 3, with just 1 point separating all 3 teams. In the end however they ended up dropping to 4th at the end of the season. They did very well however by defeating the #1 and #2 ranked teams in the National Cup, to come out as victors, so next season they will be entering the Cup Winners Tournament as the #1 ranked team for their region. A big upgrade to the forward line came with star striker Tenis Pujacs coming over from Latvia. Pujacs has been playing incredibly well in friendly games alongside home-grown striker Thomas Hartge.