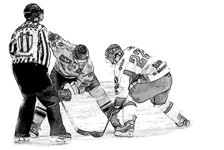 In my last article I mentioned how many of us have established Powerplay Manager (PPM) Hockey Teams after having played a few seasons of the game. While my article highlighted some key points for veteran PPM managers, it had very little relevance to those new to PPM. I wanted to address that issue.

For new managers at PPM, Season 5 brings a whole lot of learning, some trial and error and hopefully, a rink-load of fun.

Here are 10 Tips to help new managers in the PPM Hockey Game get off to a good start.
Read the PPM Forums. Possibly one of the best things you can do is read the forums and see what others are doing. If you have questions the forums are the place to ask them as there are always people on there willing to help out with an answer or two.
Find a Mentor. A mentor is an established veteran and/or experienced manager who is willing to take you under their wing and help you with advice and guidance either by private message or through an instant messaging service (skype, msn etc). There are a lot of people who are often willing to do this. If you ever need help, you can always drop me a line and I will personally help mentor you.
Learn about attributes. In the PPM Hockey game, player attributes play a vital role in your sell your team plays. You should take the time to learn how attributes work, what they do and why they are needed. I have a few articles on this site that cover this topic.
Understand Line-Ups. Sometimes the best winger is not the right winger... learning the best way to setup your lines is often something that comes with practice and trial and error. A mentor can help you with this particular issue, however be sure to take a close look at your players, their attributes and find lineups that suit their skills.
Manage the Market. The PPM market is where you buy and sell players and staff members. Learning how to best use the market can make a huge difference in the success you have when looking to upgrade your team. Do NOT buy a player with a high primary attribute (Off, Def, Goa) if his secondary attributes are all low, you are only wasting your money. Instead, adjust the search filters so you only get players that are good to buy. I like the 2-1-1 attribute balance personally, where the secondary attributes are half that of the primary. ie. a Winger would have Offense attribute twice that of Technique and Aggression.
Fiddle your Finances. Your team finances are often central to your team upgrades. You make money from game tickets, merchandise, food, sponsor deals and other sources, and you also have a great loan system you can use. But having these and using them effectively are not always the same thing. Learning how to manage your PPM finances is not just fun, but a great way to study the other aspects of the game such as the market and facility upgrades.
The Importance of Importance. Game importance is a feature you can set for each game. High importance games result in your team working "harder" for a win, but it also means a larger drain of energy. The opposite applies to low importance; less effort but lower energy loss. Play low importance in most games, especially if your opposition is far stronger and you expect to lose.
Tactics & Counter-tactics. This is the single most importance feature when it comes to the actual games. For every tactic there is a perfect counter-tactic. I have an article on here that explains what they are in detail. You need to take the time to learn these, so when you analyse your opposition before a game you will know how to best set your team up for that game. Don't worry about getting it wrong though, many of us veterans still make mistakes.
Accept losing. I don't say that to be rude or mean, in fact, quite the contrary. In PPM losing is just as important as winning. When you're new you may lose more games than you would like. Don't stress this... learn from it. Why did you lose? Did your opposition play a certain tactic? Did you choose the wrong tactic? How did your powerplay do? It is the questions raised from losing games that help build a much stronger team.
Keep the faith and have fun! At the end of the day this is a game, and as such, please make sure you have fun playing it. If you lose, learn from it. If you win, celebrate it. Either way, enjoy it.

I know it's cliche, but the saying "it wont happen overnight, but it will happen" truly does apply to PPM. It does not matter what league you are in.. with time, effort and a good strategy you can promote your way to the top leagues!