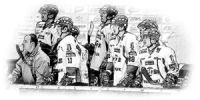 As season 4 gets underway there will be many new players (and may some older ones) who will be tossing up whether to play friendly / exhibition matches or not. You could be mistaken for thinking this should be an easy decision to make, but the truth is there is a real debate here… which is more important, managing energy loss or gaining OTR.
The Facts & Figures
Before we can begin, we need to take note of some vital facts and figures that will come into play during our calculations. I am going to make a few assumptions with these figures so they are not 100% accurate, but close enough to work for our needs.
There are 4 spaces for friendly games per week. I will assume 4 friendlies are played (or not played), so matches such as tournaments, NC, NT etc are not taken into account.
Friendly games have the following energy loss: Low (0.02) Normal (0.08) High (0.4)
Friendly games give between 0.2 and 0.4 OTR per game (by my teams stats), so are using 0.25 OTR gain for a win/tie in friendly games.
I am assuming all friendly games are played on low importance, giving your team only a 0.02 energy loss per game.
I am assuming there are 13 weeks of the regular season, giving a total of 52 friendly games over the course of the regular season.
Right, let's take a look deeper at what the 2 different scenarios give us by the time the playoffs begin.
Breaking Down The Figures
If you played friendly games every week of the regular season, you would play approximately 52 friendly games. By playing those friendly games:
You would lose a total of 1.04 in energy loss per player, assuming your players played all 52 games.
If you won just 50% of those friendly games, you would gain 6.5 in Overall Team Rating (OTR).
Of course, chances are, if you are picking your friendlies carefully, you would probably win around 75% of your games, giving you almost 10 extra OTR before the playoffs begin. There is also the argument that by playing a match your players will train less, although I myself have found this to be an invalid argument and have regularly had players train better when playing than they do when scratched.
The other side of the coin is the option not to play any friendlies, meaning your team has 4 extra days per week to maintain their energy. Not playing any games on those 4 days would:
Give your players an extra 1.04 energy by the time the playoffs begin.
NOT give your team any extra OTR bonus.
The figures are actually rather interesting…
Summary
The common argument is that playing friendly matches is detrimental to a teams energy by the time the playoffs begin. As you can wee, while not playing friendlies will allow your players to maintain energy, we're talking such a small amount it's not really enough to make a huge dent.
In fact, of the 2 scenarios, there is one clear outcome:
Play friendly matches. You will gain anywhere from 0 to 13 gain in OTR, which will help your team at playoff time, and help you get much better sponsor offers. You will lose 1.04 in energy per player, but the OTR gain is far more valuable to the overall growth of your team!
Best of all, tournaments are considered friendly matches, so you can compete in credit tournaments and earn more credits without losing extra energy!